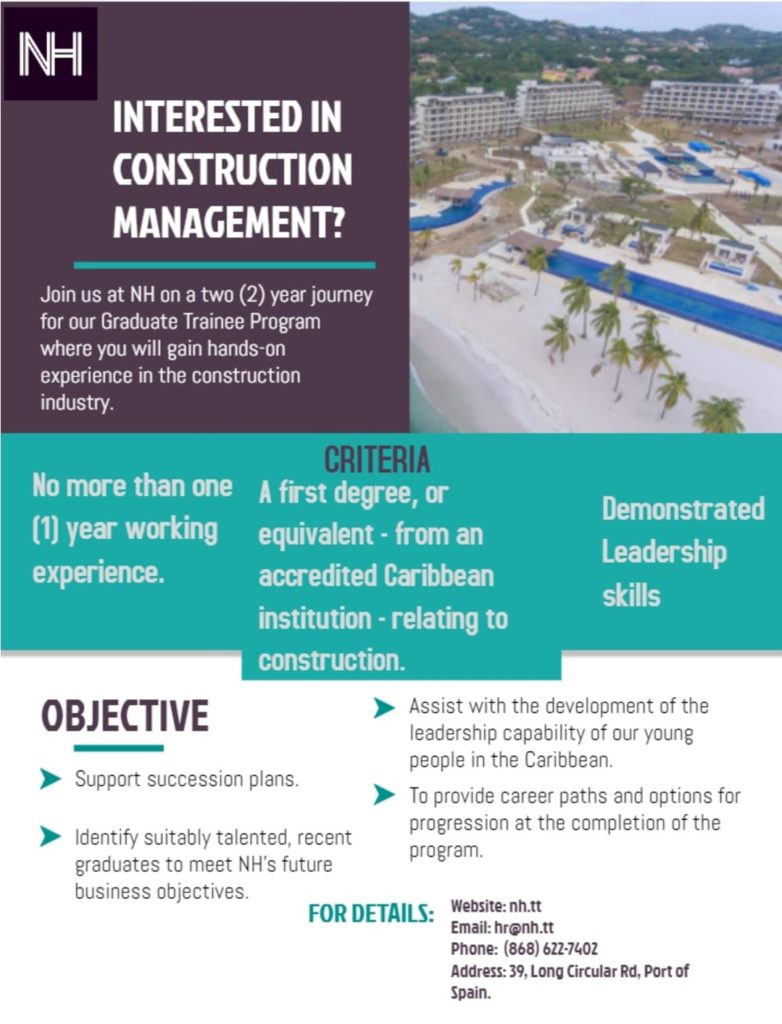 GRADUATE TRAINEE PROGRAM
OBJECTIVE:
NH Caribbean (International) Limited has established a two (2) year Graduate Trainee program to:
Assist with the development of the leadership capability of our young people in the Caribbean;
Identify suitably talented recent graduates to meet NH's future business objectives;
Support succession plans;
Build regional capability in the construction sector.
The Graduate Trainees will be given exposure and training in various departments at NH including Sites, Supply Chain Management and Quality Management.  They will be exposed to the intricacies of the construction sector and to the world of work.  They will also gain an appreciation for the values of NH.
CRITERIA:
In order to qualify for the program, candidates must possess the following:
A first degree or equivalent related to Construction Management from an accredited Caribbean institution.
No more than one year working experience.
We are looking for graduates with the following characteristics:
Demonstrated Leadership Skills
A methodical approach to problem solving
The ability to use your initiative to undertake tasks efficiently and independently.
Committed to making a difference.
Quality driven.
Team player.
Commercial thinker.
Passion for the construction industry.
Desire to learn and grasp opportunities.
Excellent verbal communication skills, which allow you to confidently liaise with clients and team members.
Excellent written communication and attention to detail with the ability to demonstrate accurate technical drawings and good report writing.
Be based on one of the islands where NH has an office base or project for the duration of the program.­
Assignment
Trainees will be given exposure and training through assignment to a specific project at NH or at the various departments at NH Head Office.  This will provide them with an opportunity to deal with real life work issues.
Training Program
This assignment will be further supported by specialized training which they are required to attend every other month, facilitated either by NH Executives or external facilitators. These sessions are ½ day or one day sessions.
Topics include: Leadership, HSSE, Quality Management, Financial Management, HR Management, Understanding Contracts, Estimating and Preparation of Tenders. This training takes the form of role plays, case studies, team exercises as the intention is that the program be practical in nature, to ensure that learning is realized.
ASSESSMENTS:
Trainees are assessed at the beginning of the program, at six-month intervals during the program and at the end of the program. This provides an opportunity for formal feedback as well as to identify any specific areas for which improvement is being sought.  They will also be required to keep updated journals on their experience with NH. They will also meet on a quarterly basis with the HR Manager.
BUSINESS IMPROVEMENT PROJECT & PRESENTATION:
To further enhance their on-the-job experience, they are also required to participate in a Business Improvement Project.  These projects are assigned as group work and this is where they have the opportunity to incorporate all that they have learnt during their time on the program and it is expected that this is reflected in their projects.
They are also required to make a presentation of their project to the Board.
Send Applications to Email :   graduatetrainee@nh.tt